Sardar Trading Agencies (STA) is one of the core companies of "Sardar Group" with more than 50 years of experience in the Iraqi private business field, mainly in the automotive segment.  
Sardar Group aims to bring a better future to the next generation of Iraqis and new values to Iraq.
STA was appointed the exclusive importer in Iraq for Land Rover in 2010 and Jaguar was added twelve months later. In this relatively short time we have already supplied in excess of 3500 vehicles to the citizens of Iraq.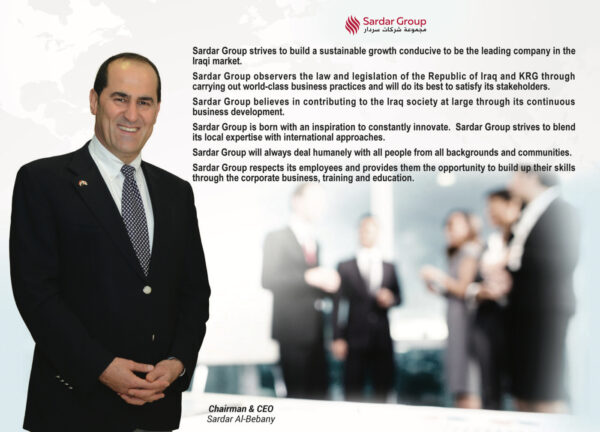 In this journey, with the support of the Iraqi Government and Jaguar Land Rover Ltd, we have developed a very strong Retailer Network having state of the art facilities in Baghdad, Erbil, Sulemania and Duhok respectively.
We in STA, are committed to the Country's progress and carry the growth story of our Manufacturer. With that as our vision we have taken an ambitious plan of building 2 new Green Field facilities in Baghdad and Erbil which would become the land mark destination for these cities. (The estimated investment of $20 Million)
Since STA began its operations, it has set new standards as a leader in the retail market of premium products across Iraq (it achieved a Gross Turnover of $300 Million in past years).
We as STA, have been at a forefront to build our nation and present its positive outlook and progressiveness to the world. Our endeavour is to work with our government to attain this by contributing towards building a robust and advanced security and safety infrastructure.
In the past (Year 2012), STA had the opportunity to work with the Ministry of Interior (MOI) of Kurdistan Region of Iraq. We have delivered 400 Land Rovers to this department to have better security and maintain law and order in the region. We are happy to share with you that these cars are still under use by the security forces and it has withstood this challenging time.
Currently, the Ministry of Interior from Federal Government in Baghdad has expressed their interest in acquiring our Discovery Sport and All New Discovery models for their infrastructure development in Iraq. We are positive about this opportunity and are ready to deliver as per their requirements.
For more information please visit: https://www.sardargroup.com/