IBBC launch prestigious Rasmi Al Jabri Annual Award for Excellence to commemorate Eng. Rasmi Al Jabri
Rasmi Al Jabri was inspirational figure deeply committed to Iraq, a tireless supporter of small and medium sized Iraqi businesses, and a firm believer in fostering Anglo-Iraqi relationships to help build Iraqi capabilities. It was no surprise therefore when his company, Basra Engineering Group, became an inaugural member of IBBC shortly after its launch in 2009. Following his retirement Rasmi joined IBBC as Deputy Chairman and Member representative in Iraq.
Sadly, after many years working to rebuild his beloved Iraq, Rasmi died in 2020. To commemorate his unstinting efforts, IBBC launched the Rasmi Al Jabri Annual Award for Excellence in December that same year.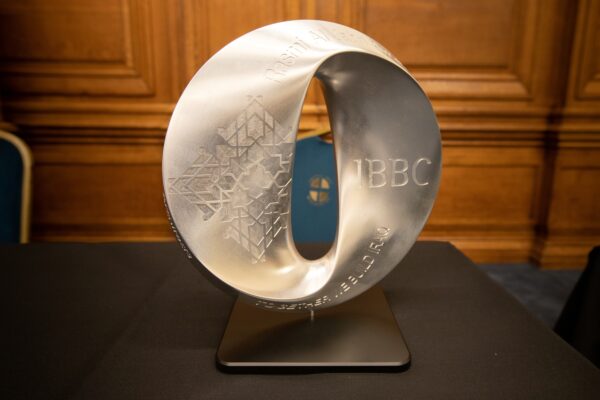 The award is open to all Iraqi-owned enterprises operating in Iraq, and recognises business growth and innovation, strong leadership commitment to building Iraq, adherence to international standards of quality, safety and governance, effective policies to train and develop personnel, and engagement with local communities. Any IBBC member can nominate up to three candidates that will be judged by a panel of three independent Judges chaired by Baroness Emma Nicholson of Winterbourne.
The award has no cash value, but the winning company will receive an impressive and unique medallion to hold for one year and a commemorative wall-mounted scroll to be held in perpetuity. The company will also receive international publicity and recognition, and senior representative will be invited to IBBC's Spring Conference and be introduced to leading UK based businesses operating in Iraq.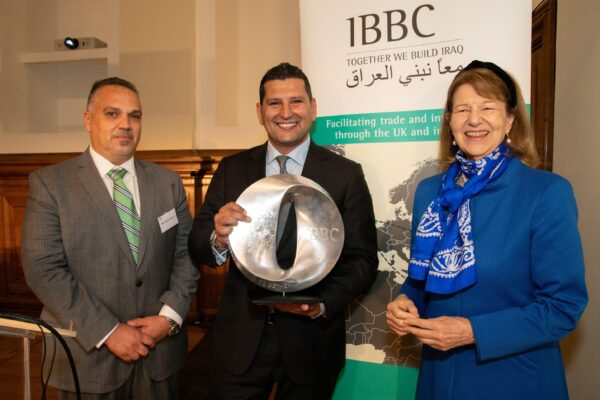 The inaugural Award was launched 2020 and was presented to the Al Burhan Group on 27 September 2021 at the Iraq Business Forum in the Methodist Central Hall in London and we have now launched the 2022 Award. This will be presented during IBBC's Spring Conference to be held on 24 May in Mansion House, City of London before an audience of the Lord Mayor of the City of London, dignitaries, leading business figures and IBBC members.
The Rasmi Al Jabri Annual Award for Excellence in 2022 was awarded to Sardar Group during IBBC Spring Conference on May 24th at the Mansion House, London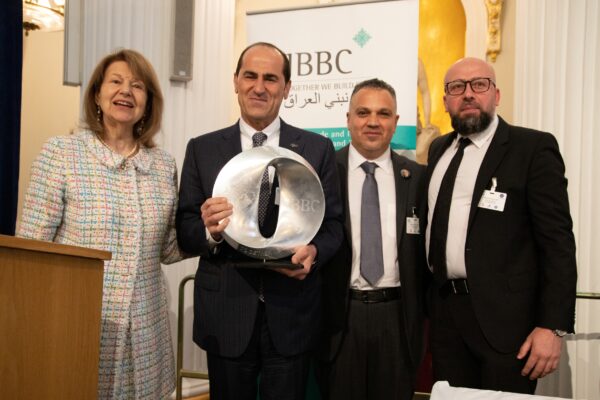 The Rasmi Al Jabri Annual Award for Excellence in 2023 was awarded to Mr Amet Selman the CEO of AAA Holdings Ltd during IBBC Spring Conference on June 16th at the Mansion House, London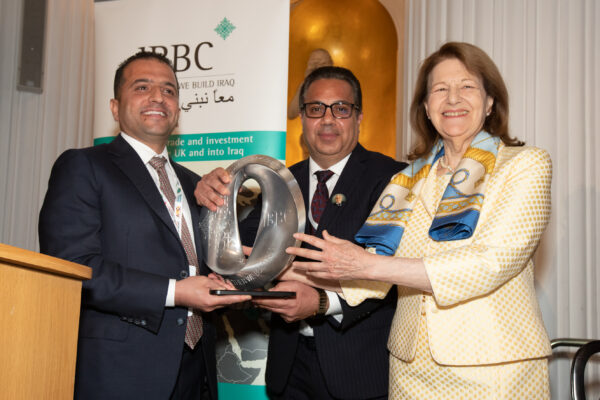 In presenting the award Baroness Nicholson's citation explained that AAA Holdings showed how it is possible for a privately owned and controlled business to invest in and deliver the highest quality of products in Iraq with huge relevance to the Iraqi economy.
In accepting the award Mr Selman re-stated his commitment to the development of the people of Iraq through continued investment and personal development, and for their work for successfully providing fertilizers to the Iraqi market in conjunction with the GOI and third-party agricultural groups.
Rasmi Al Jabri Bio:
Eng. Rasmi Al Jabri was Deputy Chairman of IBBC, on the Board of Directors and was the IBBC Representative in Iraq. Rasmi was born in 1939 and had a degree in chemical and petroleum engineering from Birmingham University. He began his career in Iraq's Ministry of Oil working in the LPG plant and in the construction, dehydration and purification of natural gas in South Rumaila. During the 1970s and 1980s, Rasmi held managerial positions at the Basra Chemical Fertiliser plant, and in the pulp, paper and rubber industries in Basra. In the early 1990s he began his own private company supplying civil, mechanical and electrical contractors to various Iraqi ministries including Irrigation, Oil, Electricity, Industry and Communications. In 2005, two other engineering companies merged with Rasmi's to form the Basra Engineering Group (BEG), with Rasmi as Director General. Rasmi was a full member of the Iraqi Engineers' Union, the Iraqi Contractors' Association and the Federation of Iraqi Chambers of Commerce Consultation Committee.