IBBC visit to Erbil and Baghdad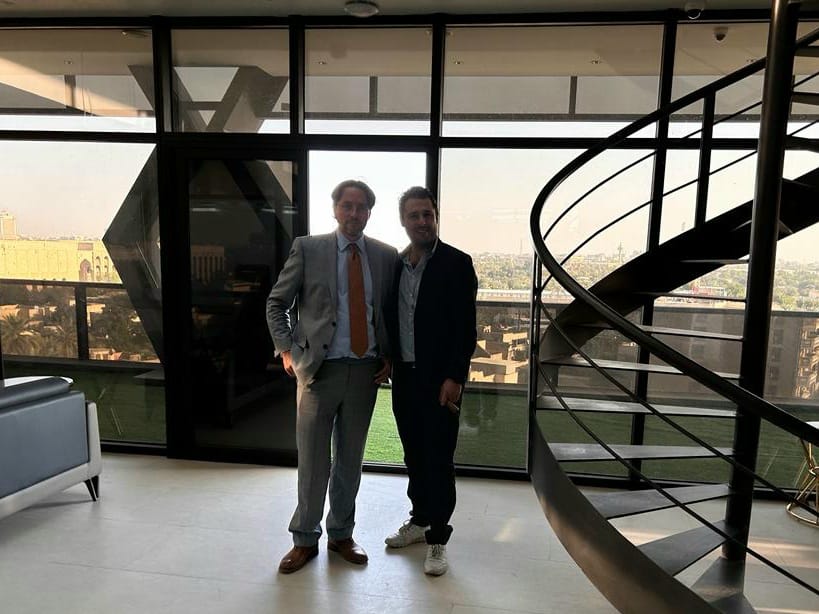 Baroness Nicholson of Winterbourn, President of IBBC, and Christophe Michels, IBBC Managing Director, accompanied by Dr. Ali Jawad, IBBC Representative in Kurdistan, and Mohanad Al Khattab, IBBC Baghdad Office Manager, have visited Erbil to meet with KRG Government and IBBC Members.
On the morning of the 31 of October, IBBC team met with IBBC Member DAAX Group at their new Erbil Hills site, which features a world class 18-hole Golf course and over 300 luxury villas with plenty of other amenities. The team then went on to meet with another member of IBBC, SABIS, at their new school in Erbil, Shoueifat International School. A new school offering the high standard education to the community of Erbil. Later the team met with IBBC Member, CISQ to see building works in progress for the London University campus due to open later in the Autumn.
On the evening of the same day, IBBC hosted a reception at Sardar Group JLR Showroom in Erbil. The reception was very well attended, with guests including many KRG Ministers, the Governor of Erbil, the acting British General Consul in Erbil and the Charman of TBI in addition to many IBBC Members and the wider business community.
The next day, 1st of November, Christophe Michels and Mohanad Al Khattab accompanied by Sheikh Salih Al Barazanji, CEO of London Sky, met with the KRG Minister of Planning, Minister of Trade, Minister of Agriculture and the Chairman of the Kurdistan Board of Investment. Discussions covered several issues including investment, new projects in the Kurdistan Region and how IBBC and its members can support and contribute to the development.
On the 2nd of November, Christophe Michels and Mohanad Al Khattab, accompanied by Sheikh Salih Al Barazanji of London Sky met with the KRG Minister of Transport and Communication. The Minister is also the President of the National Unity Alliance, the largest Christian Parliamentary block in KRI Parliament. Discussions focused on new projects in Kurdistan region, in particular the plans for a new airport in Dohuk. Later that day, the team went on to meet with Mr. Lawand Mamondy, CEO of FlyErbil, who talked about his company and what it is doing to promote travel between Erbil and the rest of the world. FlyeErbil is due to start weekly flights to London Gatwick before the end of the year.
Christophe Michels travelled to Baghdad the next day, 3rd of November, and on the 4th of November he and Mohanad Al Khattab met with Hind Hussein of Control Risks at Al Rasheed Hotel to discuss how the company's business is progressing in Iraq and how IBBC can give support. Later that night, the team met for dinner with IBBC Representative in Iraq Mr. Haider Al Shamaa of IIB.
On 5th of November, Christophe and Mohanad met with Dr. Salar Ameen, Deputy Chairman of the National Investment Commission and Mr. Jameel Choucair, CEO of Standard Chartered Bank in Iraq and later with Mohanad Al Saffar of Siemens at their offices in Baghdad. Dinner on this night was with Riadh Chehayeb of Serco at a restaurant in Yarmook neighbourhood in Baghdad. The dinner was attended by Laith Al Shahir, IBBC Advisor on Oil and Gas and former Deputy Minister of Oil.
On November 6th Christophe and Mohanad met with Dr Abdulkareem Al Faisal, Chairman of the Prime Minister Advisory Commission (PMAC) to discuss several issues related to IBBC members and to touch base on the latest developments in Iraq. The team went on later to meet with Dr. Fareed Al Yaseen, Prime Minister's Advisor on Climate. Discussions covered several issues including Dr. Al Yaseen participation in IBBC's upcoming Autumn Conference in Dubai on the 7th and 8th of December. The meeting was followed by a visit of the new 7 stories high state of the art business building of Al Maseer Insurance and met with Arak Al Bayati, its owner. Al Maseer Insurance will occupy the last two stories of the building situated just outside the green zone. Two more floors have already been rented to the UN with the remaining floors being on offer at the moment. IBBC has not seen such high quality office space in Iraq before and congratulated Mr Al Bayati for this outstanding achievement.
Christophe later met with His Majesty's Ambassador to Iraq Mr. Stephen Charles Hitchens at his residency in the British Embassy Compound in Baghdad. The day was concluded by a meeting with Mr. Zaid Al Yaseri of BP at the Al Rasheed Hotel. The conversation covered many subjects including BP's participation in IBBC's Autumn Conference in Dubai.
Despite tensions in the wider region IBBC had a very productive and successful visit and was pleased to see that many members had made significant progress in their work and were confident that their businesses would strive in the year ahead.