1001 TV joins IBBC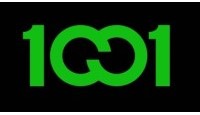 1001 TV has joined IBBC having launched in April 2023. The video streaming platform '1001', has already emerged as the most rapidly expanding video-on-demand streaming service in Iraq.
Co-founded by MD Mohsen Khairaldin Garcia 1001 represents a pioneering global streaming and social platform, underpinned by the significant investment of Iraq's preeminent independent media conglomerate, the Sharqiya Group. Since launching 1001 has accumulated over 1.5 million viewers in the first 3 months and is already the second largest streaming platform in Iraq.
'Mohsen Khairaldin Garcia says, 'We launched to capitalise on the knowledge that the sectors of media, entertainment, and digital technology within Iraq are undergoing dynamic and swift expansion, fuelled primarily by the country's burgeoning, predominantly youthful, and increasingly urbanised population'.
1001 offers a repository of thousands of hours of exclusive Iraqi content encompassing an array of new, internally commissioned original productions. These offerings are augmented by several additional thousand hours of international content, sourced from preeminent studios, production houses, and broadcasters, meticulously curated to cater to the distinctive predilections of its predominantly youthful Iraqi demographic.
Recognising the instrumental role streaming platforms play in catalysing creative ecosystems globally, 1001 is playing a pivotal role in fostering substantial creative media content capabilities within Iraq. Concurrently, it is also actively seeking to attract top-tier American, British, Arabic, and Asian content to bolster its Iraq-centric catalogue, whilst playing an active role in supporting the creative and artistic ecosystem within Iraq.
Mohsen Khairaldin Garcia says, 'Drawing its inspiration from the timeless and globally resonating charm of '1001 Arabian Nights,'1001 extends a warm welcome to IBBC and the international community, as we pioneer the evolution of high-calibre media in Iraq. We are ushering in a shift in viewer preference, transitioning from unauthorised streaming platforms to feasible, lawful alternatives and creating a new media market. We eagerly anticipate licencing top UK content as a foundational element of our value proposition.'
Christophe Michels, MD of IBBC says' IBBC warmly welcomes 1001 and their exciting proposition to develop the Iraqi media market. 1001 represent a new breed of Iraqi businesses that embrace the digital world, as private sector entrepreneurs, as cultural leaders through technology and as diversifiers of the Iraqi economy. They have our full backing in this venture'
You can watch more on 1001.tv or download the 1001 app via the Apple Store, Google Play Store, or Huawei App Gallery.
Contact Mohsen here