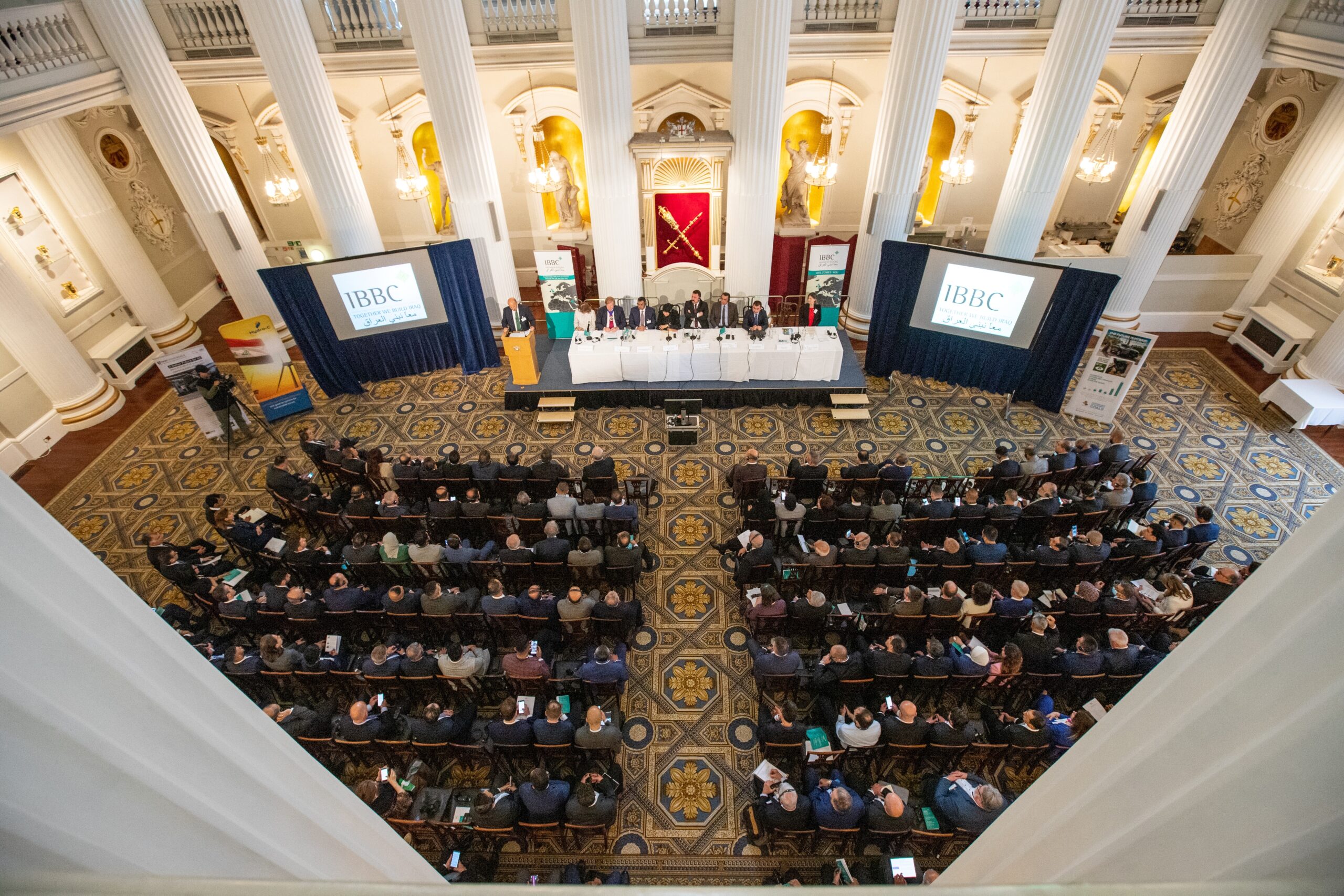 'IRAQ 2023, OPEN TO THE WORLD', IBBC MANSION HOUSE CONFERENCE, JUNE 16TH, 2023

This is a big year for Iraq, and IBBC is inviting you to join us at our Mansion House, Spring Conference on June 16th in the City of London.
We are celebrating the theme 'Iraq 2023, Open to the World' with our members and the international business and finance community.
As the Iraqi government is set to pass a new $120bn budget for distribution, sustained by a strong oil price and increased political stability, the Internationalisation of Iraq is set to continue and accelerate.
IBBC has a full agenda of major international companies and speakers, UK & Iraqi politicians and many networking and business development opportunities.
Key panels include the Energy panel with Iraq's leaders in oil and gas, including Mr Laith Al Shaher, Deputy Minister of Oil; Ms Dunia Chalabi, TotalEnergies; Mr Andrew Wiper, Basrah Gas Company; Mr Mushhood Haider, Scotland Trade and Investment International Finance
Ms Dunia Chalabi of Total Energies will also be sharing her insights into Total's approaches to The Environment, Transitional energy production and Innovation in Iraq.
Important sessions on Banking and Investment, Project Finance and Insurance,  Renewable Energy and diversified services are taking place with H.E. Dr Haider M. Mekkiyah, Chairman of the National Investment Commission and DG's from his office, as well as over 20 Private Iraqi Banks confirmed.. We expect to hear from some of the most successful local and international companies working in Iraq on Infrastructure and General Trading. In addition, there will be parallel sessions on Education Heritage, and Technology, including MD of SAP Iraq, Dr John McGinnis, of The British Museum.

OUR SPEAKERS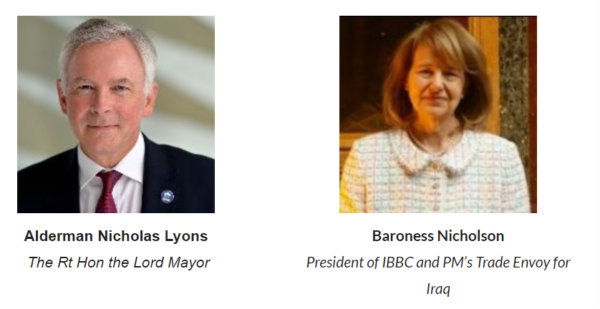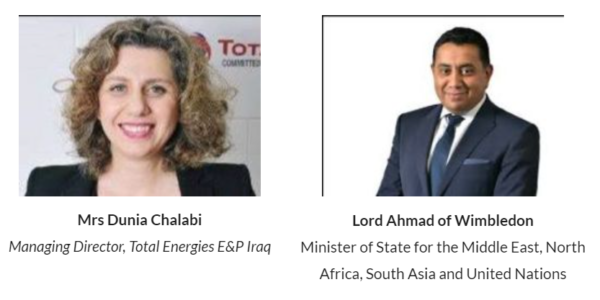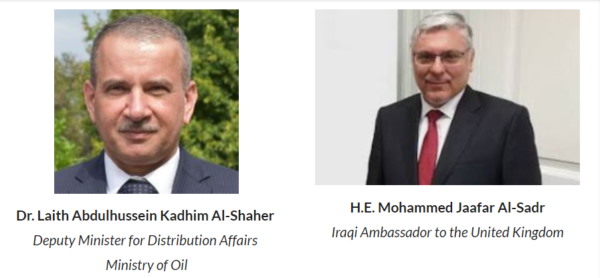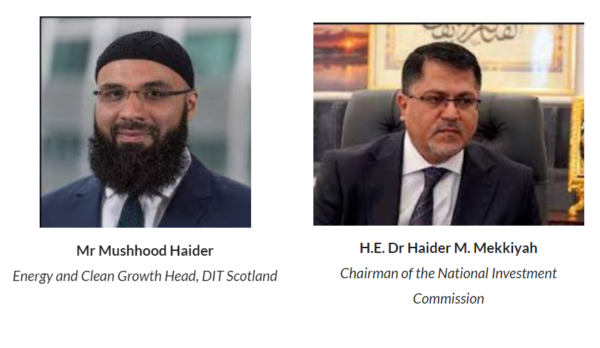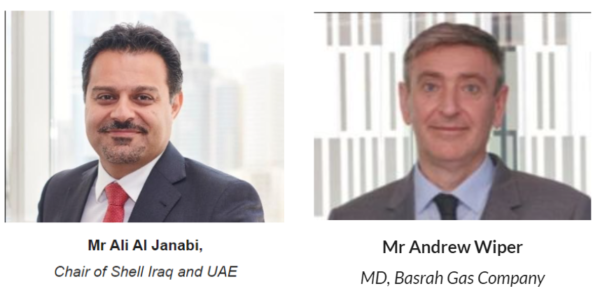 Meet other attendees include a strong financial focus and panel on, Developing the Banking Sector.
Session 1: Finance
Chairman: Mr John Curtin, Ernst & Young Iraq
Panellists: Mr Haider F. Al-Shamaa, International Islamic Bank; Mr Tim Palmer, UK Export Finance; Mr Salahuddin Al-Hadeethi, Ministry of Finance; Dr Yasser Hassan, National Bank of Egypt
Session 2: 'Iraq 2023 – Open to the World'
Chairman: Mrs Hadeel Hasan, Al Hadeel Al Hasan LLC
Panellists: Professor Frank Gunter, Lehigh University; Mr Steve Alexander, Sardar Group; Mr Richard Cotton, AAA Holdings; Mr Hassan Heshmat, Hydro-C
Session 3: Energy
Chairman: Mr Luay Al Khateeb, Centre on Global Energy Policy – Columbia University.
Keynote Address: Mr Laith Al Shaher, Deputy Minister of Oil
Panellists: Mr Laith Al Shaher, Ministry of Oil; Ms Dunia Chalabi, TotalEnergies; Mr Andrew Wiper, Basrah Gas Company; Mr Mushhood Haider, Scotland Trade and Investment; Mr Ali Al Janabi, Shell Iraq and UAE
Roundtable discussions on doing business in Iraqi Kurdistan, will be held in parallel to the conference panel discussions, and a special Heritage and Education session with leading Iraqi experts from Nottingham Trent University and the British Museum presenting their latest insights on Iraqi heritage alongside an exhibition of their work.
TECH FORUM ONLINE
There will be a Tech Forum Online on Digital Transformation
Chairman: Mr Ashley Goodall, IBBC
Panellist: Mr Saquib Ahmed, SAP; Mr Padraig O'Hannelly, Iraq Business News; Mr Mohsen Garcia, 1001 Media; Mr Chris Ferguson, Scott Logic; Mr Adam Jones, Mastercard and others to be confirmed.
CLICK HERE TO REGISTER TO THE TECH FORUM ONLINE
HERITAGE AND EDUCATION SESSION
"Protecting the past, building a future"
Iraq's heritage is coming a big topic, not just for its commercial value and growth, but also for what it signifies about Iraq's current culture and past history. Hear leading experts on Iraq's heritage
Chairman: Professor Mohammed Al Uzri, IBBC Health and Education Advisor     Panellist: Dr John McGinnis, The British Museum; Prof Gamal Abdelmonem, Nottingham Trent University, Mr Ali Al Makhzomy, Bilweekend; Dr Rosalind Wade Haddon, British Institute for the Study of Iraq; Professor Chris Whitehead, Newcastle University
IBBC is also hosting an exhibition on heritage "Legacies of War and Peace in Iraq: Mosul's Story of Resistance, Resilience, Recovery and Rise" The exhibition is curated by Professor Gamal Abdelmonem and his project team. Exhibition partners are Nottingham Trent University, University of Mosul, University of Leeds, University of Wasit, and the British Museum
PRE-CONFERENCE RECEPTION
We are holding a special reception in One Great George Street the previous evening 15th June as part of the ticket.
We will keep you informed of speakers and panels as they evolve, and you will find more information on our website as the event takes shape.

For any further questions or to find out more on sponsorship opportunities please contact [email protected].
CONFERENCE SPONSORS
PRINCIPAL SPONSOR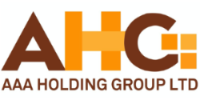 GOLD SPONSORS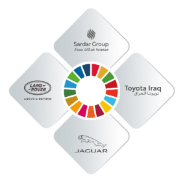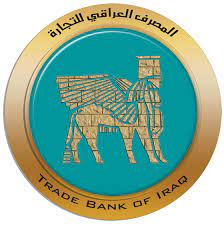 BRONZE SPONSORS